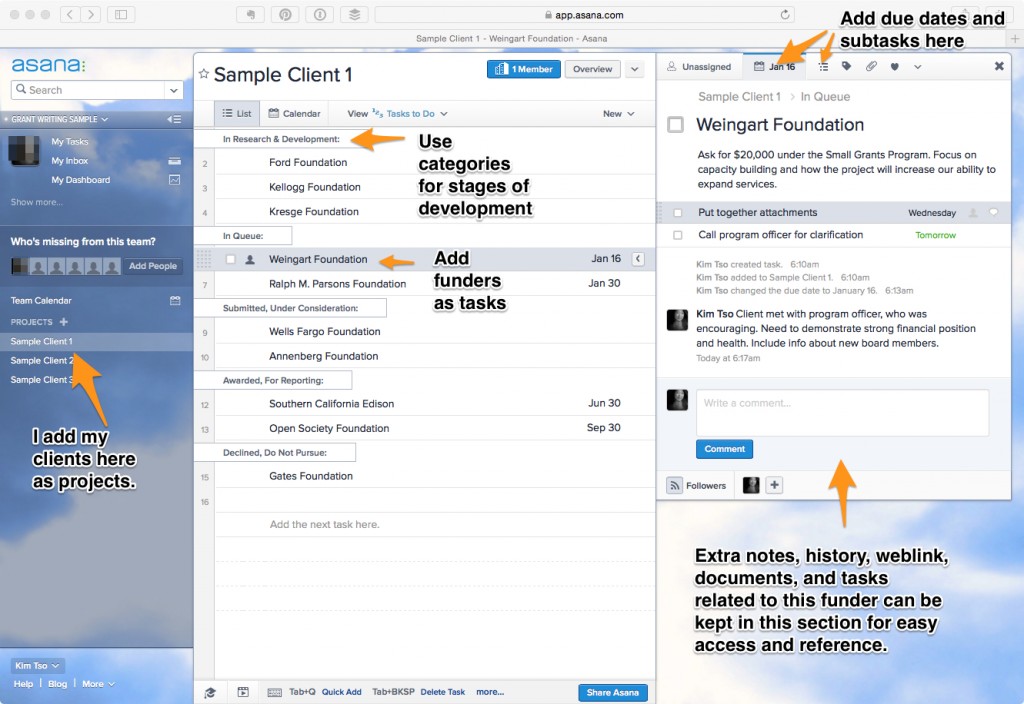 Grant writers are expert jugglers. Whether you work with one organization or with several as clients, there are always multiple proposals in progress at any given time. So many balls in the air can be stressful if you don't have a place to hold all the details and a system to ensure you don't miss an important deadline.
The really tricky part is that all of those proposals are in various stages of development. Each proposal goes through stages of development that look something like this:
Researching and Cultivating Relationships
Actively Writing (or what I call "In Queue")
Submitted, Under Consideration
Awarded, For Reporting
Declined, Do Not Pursue
You need to be able to see the full scope of all the proposals that you are working on and what stage they are in. For years, I've searched for a software program, online app, or database of some kind that I could use to keep track of all my proposals according to their stage of development. I know a lot of people use Excel or other spreadsheets for this purpose, but I've always found that to be too clunky or unwieldy. Last year, I finally found a hack that might work as well for you as it does for me.
I use a free online to-do list program called Asana. It's a pretty powerful app that has been flexible enough for me to adapt it to my needs and share it with my clients. Let me show you how I use it:
Set up a free account with Asana (this is not an affiliate link). If you are a staff person, you can do this directly, but if you are a consultant or volunteer, you might want the organization to set up the initial account and invite you in. Doing so will allow you to leave later without taking the database with you.
Use Asana to make a list all of the grant proposals you are working on, as if they are tasks on your to-do list.
Create the pipeline according to the stage of development. You can create categories which reflect the stages in the pipeline such as "In Research and Development" and "Submitted, Under Consideration." These categories can be made simply by typing the text as if it were another task but adding a colon at the end to indicate that it is a header.
Move the grant proposals under the appropriate categories to reflect the stages that they are in.
This system in Asana helps you to see at a glance which funders we are still researching and cultivating, which proposals we are actively writing, which proposals of been submitted and are awaiting response, which ones were awarded and require a report, and which ones were declined and should not be pursued further. Any proposal that is declined but will receive more cultivation for another try in the future goes back into Research and Cultivate. As each proposal moves through the stages of development, just drag and drop it under the appropriate header.
Here's the best part: Each task line, which now has the name of the funder, can include an enormous amount of further detail and subtasks. This section is where you can store all of the information about that funder, communications with that funder, strategies for approach, and other notes. Due dates can be assigned both to the funder and to any subtasks that you create that funder. You can also attach other documents and put in web links into any of the notes.
You can get a global view of when your proposals are due by viewing the information as a list or as a calendar. If you have multiple people working on proposals as a team, you can invite them to the project and assign tasks. You are also able to view tasks according to the person assigned. Being able to see all the proposals and due dates at a glance can give you the confidence that you know where every funder is in the development cycle.
How do you currently juggle your work and keep track of it all? I'd love to hear what's working for you. If you have any questions, feel free to post them in the comments.