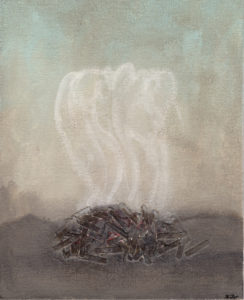 Physically, grant writing has broken me. The tension in my shoulders that my massage therapist can't work out is probably from the fact that I submit ten to twelve proposals a month. The twinge in my lower back is the six drafts of the Kellogg grant I just did in three weeks. The pervasive wrist pain definitely started with the twenty-one versions of the logic model Hewlett wanted five years ago.
Physically and in many other ways grant writing makes me stronger. The bodily and emotional pain of burnout led me to insist upon getting what I want and need in my life. I found better ways to care for myself, which in turn means that I now exercise, take breaks from the computer, collaborate with colleagues, put boundaries on my work demands, and pursue other creative passions. It's changed the way I do business and how I understand myself and fulfill my needs. Burnt out, I still write grants, but I also live a fuller life that is rounded out by time for myself and for the people and activities I enjoy.
Usually, posts about burnout are about how to avoid or prevent it. I say let it burn. If you smolder long enough, a glimpse of who you are will emerge.