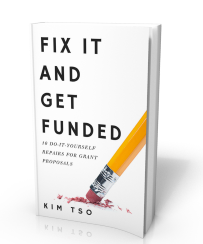 Kim Tso hands you the keys to effective grant writing in Fix it and Get Funded: 10 Do-It-Yourself Repairs for Grant Proposals.
To save time and money writing your own grant proposals, you need to know how to fix and fine tune them before they go out the door.
Prime Your Funding Engine
Cash-strapped, budget-conscious non-profit organizations often bring grant writing efforts in house or ask volunteers to help. Those front-end savings can be short lived in terms of time spent, human capital, effectiveness, or dead ends, especially when months may pass before you learn whether or not the proposals are successful.
Veteran grant writer KimTso has won her clients over $117M in funding. In Fix It and Get Funded Kim takes the mystery out of successful grant proposals. It's a how-to guide for the Do-It-Yourself (DIY) grant writer, assembling easy-to-use, professional level repairs for the most common mistakes people make.
Get the Workbook! Fix It and Get Funded
Armed with Kim Tso's insider secrets, you can construct stronger grant proposals that deliver a strategic edge and match the funder's interests. Rebound from ruts and mindsets that have kept you from achieving core goals. Better yet, you will avoid common pitfalls that cause proposals to get automatically declined — or not even reviewed in the first place.
Fix It and Get Funded offers insightful, easy to implement exercises you can use to fix what ails your grant proposals quickly. You will:
Recognize funders' unwritten eligibility rules
Know the right dollar amount to request
Write persuasive, compelling case statements
Escape ruts caused by boilerplate language
Set measurable grant objectives
Answer the dreaded "sustainability" question with relevance and clarity
Be more fundable! Your work is too important to let your grant proposals get turned down. Choose to Fix It and Get Funded.
Need extra help tailored to your situation?
Choose from Velocity Ink professional grant writing services and self-guided Tune Ups that deliver Kim Tso's expertise with focused fixes you can apply to your precise situation right away.